News
The Role of an Advocate
21 November 2016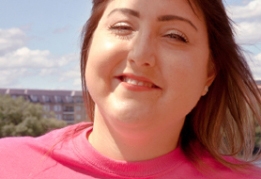 It was during summer 2013 that I decided I wanted to look at becoming an advocate for Live Life Give Life (LLGL).
It had been just over a year since I had received my single lung transplant and my health was back on form. Having been so desperately ill for several years, I wanted to give something back to the transplant community.
I had been aware of LLGL for a number of years. When my health took a turn for the worse, LLGL was at the forefront of my mind. I wanted to raise awareness and organised several events raising funds for LLGL: a local Christmas fayre, a charity tribute night and a coffee morning.
I had completed the LLGL speakers project in January of 2013 and felt I had a strong link with the charity. Whilst awaiting my transplant in 2011/2012, LLGL had been a great support to me; several advocates had guided me through the uncertain time of being on the transplant waiting list and were always there at the end of the phone or just a message/email away in answering any transplant related question and queries of all kinds.
We have a great team of Advocates and Trustees within LLGL. In particular I would like to mention the beautiful Katie Gammon, who was a vital part of the LLGL team. Katie received her transplant on 10th August 2013, but unfortunately passed away in August 2015 due to chronic rejection. This was devastating news for the charity as Katie was very passionate about raising awareness for LLGL, as well as organising several charity events independently and alongside other advocates, including her close friend and fellow advocate Jessica Paddock. Katie more than fulfilled her role as an advocate. At a big event that she took part in, which raised a lot of awareness, was the Tarka Walk. 2015 was the fourth year/event that she was involved in and she had so much passion for the event – there was no stopping her! She organised a number of sponsored walks along the Tarka Trail raising thousands of pounds for charity, including LLGL.
Katie fulfilled her role as an advocate and passionately spread the word of organ donation along with all the other advocates that volunteer for LLGL. She will always be remembered for that.
The role of an advocate is to support, raise awareness and spread the word of organ donation to each and every person we come across in our lives. We each have a personal story and direct link to transplantation, whether it be a recipient, living donor (alive because of organ donation), or a donor family; we are all bound together in wanting to reduce the number of people who die awaiting a transplant; this is currently around three people each day. There are currently around 7,000 people in the UK awaiting an organ transplant.
Our aim as a charity, in addition to within our individual role as an advocate, is to try and reduce this by educating others and supporting those awaiting a transplant. We need to be there for the community, both pre- and post-transplant.
To find out more about Live Life Give Life and how to join the Organ Donor register, please visit www.livelifegivelife.org.uk.
For now "Let Love Live On" …
Rachel Prosser – LLGL Trustee