News
Pumpkin Project – Gerard Falsey
21 November 2016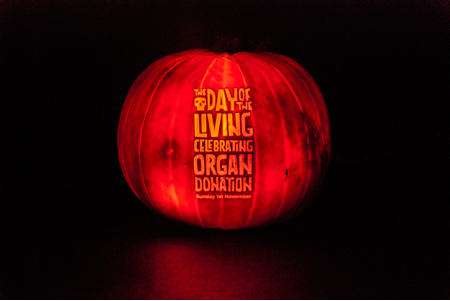 With thousands dying every year whilst awaiting a transplant, portraits of donors have been laser carved into pumpkins to highlight how each donor's "light lives on".
It is hoped that this will encourage others to consider signing the organ donation register and communicate their wishes to their nearest and dearest, thereby making such a decision easier for their relatives in an otherwise traumatic situation. In approximately 40% of cases the final decision to donate rests with the family at a moment of terrible stress and grief. Unless wishes are made clear, they will often go unfulfilled.
We want to celebrate organ donation and reflect on donors' generosity. Behind each of the portraits is an inspirational story. Their act of kindness has provided some light for their families in their darkest hour, particularly as they had discussed this previously so that their loved ones could honour their wishes.
GERARD FALSEY (RECIPIENT, now deceased) from Hamilton, near Glasgow, was one of the main inspirations for the Day of the Living campaign. A recipient, rather than a donor, Gerard was a friendly giant and from the day he received his lung transplant he was a tireless campaigner for organ donation.
Gerard's new lung eventually failed but he handled his deteriorating health with bravery, laughter and heroism; he even completed in the Transplant Games. His family continues his work today. Gerard's friend, Kirsty Geddes, said:
"Throughout, Gerard remained immensely grateful to his donor and their family for giving him the most precious gift of all: time. This extension of his life gave him precious moments with his family and friends that he may never have had without their generosity."
Across the UK people have to opt-in to become a donor but in Wales – from 1st December 2015 – people will have to opt-out.
To sign the NHS Organ Donor Register and support our work, visitwww.livelifegivelife.org.uk.
This campaign was created pro-bono through creative agency Onebigconversation. Laser cutting was by manufacturing studio FABberz London (www.fabberz.co.uk).