News
Pumpkin Project – Sharon Williamson
21 November 2016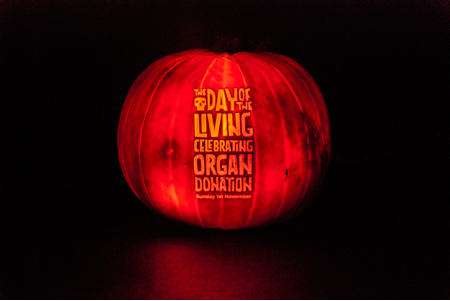 With thousands dying every year whilst awaiting a transplant, portraits of donors have been laser carved into pumpkins to highlight how each donor's "light lives on".
It is hoped that this will encourage others to consider signing the organ donation register and communicate their wishes to their nearest and dearest, thereby making such a decision easier for their relatives in an otherwise traumatic situation. In approximately 40% of cases the final decision to donate rests with the family at a moment of terrible stress and grief. Unless wishes are made clear, they will often go unfulfilled.
We want to celebrate organ donation and reflect on donors' generosity. Behind each of the portraits is an inspirational story. Their act of kindness has provided some light for their families in their darkest hour, particularly as they had discussed this previously so that their loved ones could honour their wishes.
SHARON WILLIAMSON (DONOR) from Newcastle had spoken many times of how she wanted to live on in others after she died. When she tragically passed away suddenly from a stroke, aged 41, her family bravely gave consent for her heart, kidneys and liver to be offered for donation.
Thanks to Sharon and her family's generosity, five women were given lifesaving operations. They are in touch with two of those women to this day and say it provides some comfort to see and hear how well they are doing.
Sharon's father, Alan, said:
"It was heartbreaking to lose Sharon, but knowing she lives on in others is a wonderful feeling."
Across the UK people have to opt-in to become a donor but in Wales – from 1st December 2015 – people will have to opt-out.
To sign the NHS Organ Donor Register and support our work, visit www.livelifegivelife.org.uk. . .
This campaign was created pro-bono through creative agency Onebigconversation. Laser cutting was by manufacturing studio FABberz London (www.fabberz.co.uk).
Sharon Williamson