News
Pumpkin Project – Linny Horrell
21 November 2016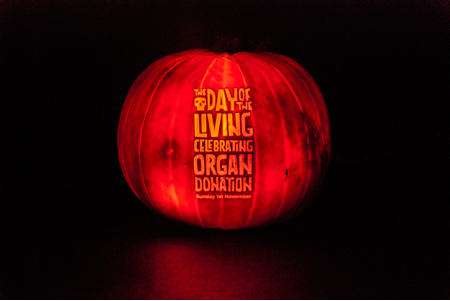 With thousands dying every year whilst awaiting a transplant, portraits of donors have been laser carved into pumpkins to highlight how each donor's "light lives on".
It is hoped that this will encourage others to consider signing the organ donation register and communicate their wishes to their nearest and dearest, thereby making such a decision easier for their relatives in an otherwise traumatic situation. In approximately 40% of cases the final decision to donate rests with the family at a moment of terrible stress and grief. Unless wishes are made clear, they will often go unfulfilled.
We want to celebrate organ donation and reflect on donors' generosity. Behind each of the portraits is an inspirational story. Their act of kindness has provided some light for their families in their darkest hour, particularly as they had discussed this previously so that their loved ones could honour their wishes.
LINNY HORRELL (DONOR) from Barnstaple, Devon, was killed in a traffic accident in 2014. She was always certain that she wanted to be a donor and saved lives by being clear about her wishes. Her daughter, Vicky Perry, says:
"My mum's organ donation has been a huge part of the healing process for our family. In total Mum has saved and improved the lives of five people – and we think this is incredible. The generosity of organ donors, and the lives they save, deserves to be celebrated. This campaign reflects how each donor's light lives on to encourage others to reflect, sign the organ donor register and let their family know."
As a result of Linny's selflessness:
 A gentleman in his early seventies received a kidney transplant.  He had been on haemodialysis for almost three years
A lady in her mid-forties received a kidney transplant.  She had been on the transplant waiting list for over three years whilst having a dialysis all that time
A lady in her late sixties received a liver transplant. This was an emergency procedure that saved her life
A gentleman in his late thirties was transplanted with pancreatic islet cells. This will transform his life as he will no longer need to inject insulin for diabetes
A lady in her thirties received a corneal transplant that has now restored her eyesight
Read more about Linny's story at www.ourlinny.co.uk
Across the UK people have to opt-in to become a donor but in Wales – from 1st December 2015 – people will have to opt-out.
To sign the NHS Organ Donor Register and support our work, visit www.livelifegivelife.org.uk.
This campaign was created pro-bono through creative agency Onebigconversation. Laser cutting was by manufacturing studio FABberz London (www.fabberz.co.uk)