Life Stories
Organ transplantation through the eyes of a specialist transplant nurse
14 December 2021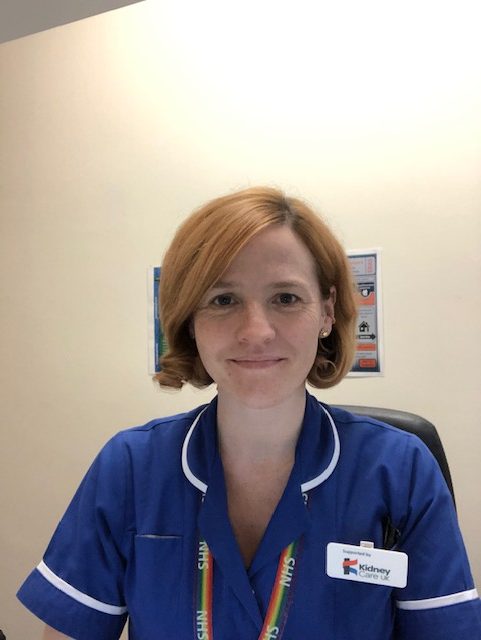 Lead nurse for enhanced recovery in transplantation at the Freeman Hospital in Newcastle. Carrie talks about her experience over the last fourteen years caring for transplant patients.
I feel extremely privileged to work in the area of transplantation. Patients come into hospital often feeling so unwell and struggling with the restrictions placed on their lives such as regular hospital visits, dialysis needs and restrictions on what they can eat and drink. Seeing those patients leaving hospital, feeling so much better with the chance of a longer and healthier life ahead is one of the most rewarding and inspiring things to see.
Thanks to generous support from the charity 'Kidney Care UK' (KCUK), we have recently introduced an enhanced recovery after surgery (ERAS) programme, changing the way we help people recover after a kidney transplant. There are three main stages to this.
Stage 1 – We help patients better prepare for their transplant, explaining the principles of enhanced recovery, what to expect and introducing them to a patient journal to support their stay in hospital.
Stage 2 – Changes to patient care around the time of the transplant operation including: changes to pain relief and the way we manage fluids; less tubes and lines where possible and a personalised physiotherapy led mobility programme. Daily targets for both the patient and the transplant team provide a framework to help patients recover more quickly. We encourage patients to be involved in their recovery and use their journal to record their progress.
Stage 3 – We try to help patients go home sooner if they are ready and we continue to support them closely at home.
My role as lead nurse for enhanced recovery (made possible through generous sponsorship from KCUK), was created to co-ordinate the team in developing and implementing the programme. This has been very rewarding and has included seeking ideas from the wider team and liaising with patient groups such as the Tyneside Kidney Patient's Association (TKPA) for their suggestions and feedback. I have designed and created documents such as the patient journal and staff flow charts to remind them of the daily targets. Ongoing staff education, monitoring of progress through data collection and seeking patient and staff feedback are also an important part of the role. Our results so far have been very positive and we have received great feedback from both patients and staff.
Watching the programme change from ideas in meetings, to a successful programme and seeing the benefit to patients first hand, has been such a rewarding process and I feel very privileged to have been part of it. We are now moving on to look at ways of helping patients stay well on the transplant waiting list as well as creating an electronic version of the journal to make it more user friendly (for those with eyesight difficulties or language barriers for example). We hope to go on to create similar programmes for patients who are receiving liver transplants and pancreas transplants.
Working in transplantation, you are always mindful that however great our ideas, our care and achievements for our patients, it is all meaningless without the gift from another human being. Organ donation is the most precious of gifts and we always keep the donors and their families in our thoughts.
– Carrie Scuffel