Life Stories
Morgan's Dad's Gift
21 November 2016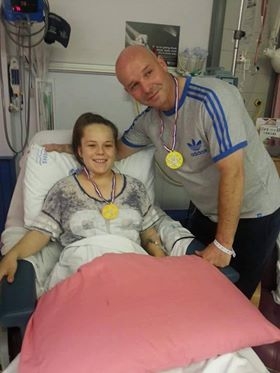 Morgan was diagnosed with End Stage Renal Failure in May 2013, aged 13.
There are five stages of kidney failure; Morgan was diagnosed at the most advanced stage, meaning no other option but dialysis and transplant. Inevitably, this came as a complete shock to us all as she had always been a healthy child. She had been attending hospital as she'd had a sore knee for some time. Eventually they took a blood test and within hours her young life was turned upside down. She was told her kidneys had failed and she needed a kidney transplant; until then she would need to start dialysis.
Her life changed from that of a normal teenager to one full of hospital appointments, taking so many different medicines, a strict diet and dialysis nine hours a night, seven nights a week.
Her dad and I were both tested to see if we were a match for a donor kidney. I wasn't; I was heartbroken that I couldn't make her better, but thankfully her dad was. Morgan got her new kidney in July 2014.
Morgan was lucky to have a living donor. Not everyone is this lucky and we know that next time she needs a transplant she will most likely need to wait for a suitable kidney from the donor register. This is another reason we always try to help promote organ donation.
Morgan's life has been transformed since receiving her transplant. Living on a machine really isn't a life; she missed out on so much when she was on dialysis. She couldn't go on school trips, she couldn't have sleepovers with her friends, she couldn't go swimming or eat crisps and chocolate – just some of the things we all take for granted. Organ donation means she has got her life back.