Life Stories
Maggie Williamson's Transplant Story
21 November 2016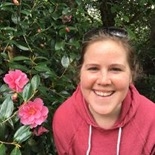 I am 28 years old and was born in the United States with a genetic disease called Cystic Fibrosis.
It creates thick, sticky mucus in the lungs and also affects other parts of the body. This mucus leads to bacterial growth resulting in progressive lung damage.
I spent much of my childhood in hospital trying to preserve my ever decreasing lung function. By the age of 25 my lungs had deteriorated to the point where I had no treatment options left and I was listed for a double lung transplant. I waited 13 months for my new lungs, homebound and on oxygen.
Since my transplant, I have regained my independence and am now able to travel and see the world. In 2015, I moved to England with my husband to fulfil my dream of living in another country. I used to love singing as a child but my old lungs could not hold enough breath as they deteriorated. I am now able to belt out as many notes as I want and it fills me with joy to be able to sing as loudly as I can. My donor gave me a new lease of life and I am so grateful for the second chance I have been given. I'm living, breathing and succeeding!