Life Stories
Dennis Jelly's New Beginning
21 November 2016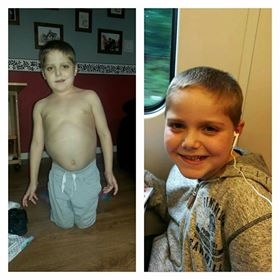 This is my son, Dennis; he is 8 years old.  He was born with Biliary Atresia and had a Kasai at the age of nine weeks. He lived a fairly uncomplicated liver life compared to most children I have met with similar conditions.
Dennis' life changed on 4th August 2015. He suffered a major bleed which was caused by four big varices in his oesophagus. He lost just over three pints of blood all at once. Life became very scary for us all. He actually asked us if he was going to die … not something you ever want to hear from your child, especially at seven years old.
After he was all fixed up by the wonderful doctors at King's College, I had a discussion with his consultants and decided to start the transplant journey while he was still relatively healthy in order to give him better odds for surgery. We went through the transplant assessment and joined the list on 13th January 2016.
Dennis was called in twice but they were false alarms. Our third call was the perfect liver for him, according to all professionals involved. Dennis received his new liver on 3rd May with no complications. He recovered well and was sent home on day 14, returning to school just five weeks after transplant. He has had it very lucky with no rejection and no infections – just look how rosy he looks in the picture!
The wait was a nightmare, even for such a short time compared to others who wait a lot longer. The feeling of being restricted, not being able to live life fully, go places with the kids without panicking about getting home for the ambulance or to the hospital … The rollercoaster of emotions we all went through (not just Dennis), reading or hearing on the radio about crashes on motorways and wondering whether they were donors and if we might get a call. The waiting and watching Dennis slowly become more exhausted, missing out on school and making new friends (as he had started a new school that year too) – slowly and surely missing out on life experiences that were then affecting him emotionally as well. He gave up trying new things as he believed he wouldn't be any good at them. He also secretly believed he was going to die during surgery or wouldn't wake up afterwards, but he kept it to himself because he was so scared of worrying me more. These kids are true warriors. Dennis is known as our little soldier and his tag line is "always smiling" as – no matter what is thrown at him – that's what he does.
No words could ever explain how thankful we are for his donor's decision to donate.  Everything about Dennis' life and our life as a family has changed for the better. Turn an end into a beginning, join the donor register and save someone's life.