News
Andrew's O2 Challenge – and Walks in the Parks
21 November 2016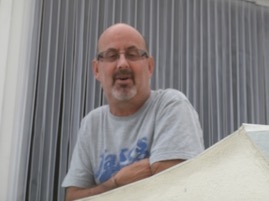 My name is Andrew Whitby and I have been in the position of needing several transplants over the last thirty-one years.
Firstly, I would like to introduce myself. My name is Andrew Whitby and I have been in the position of needing several transplants over the last thirty-one years.
I was born with a hole in my heart and by the age of 20 it became extremely obvious that I was seriously ill and in need of what was then a pioneering Heart and Double Lung transplant, which I was fortunate to receive, having waited for only two weeks or so. However, unfortunately the innovative new medication used at the time killed my kidneys and that led to eight years on dialysis and a transplant in 1999.
So, with that done this now leads me to my maiden blog for the Live Life Give Life website.
In July 2016 I was introduced to the LLGL community and I realised what a wonderful group of people they were. I wanted to become an Advocate as I felt that my transplant experiences and communication skills on the subject, together with my years of fundraising for various hospitals and trusts, would be beneficial. I was over the moon to hear that I had been accepted.
My first idea for fundraising for LLGL was a personal sponsored walk around five of London's royal parks: Regent's, Green, St James's, Hyde and Kensington Gardens, equating to approximately 12 miles. I have been practising; once was during "Trooping the Colours" and this was comical because London was even busier than usual, especially when you are trying to walk from A to B. My walk is scheduled to take place on Friday, 2nd September. If anybody would like to sponsor me I have a JustGiving page: Andrew's Walk in the Parks. All funds raised will go to LLGL.
I have several fantastic friends with whom I have created a fantastic bond; they too are advocates of LLGL and fellow transplant recipients from Harefield Hospital. On one occasion (I'm not sure how!) I was persuaded to join George Compton and Veronica Lanzetta in climbing up and over the O2 Dome. It will be a fantastic challenge for us all, so if anybody wishes to come and cheer us on we will be going over the top at 1300 hours on Sunday, 14th August. We will be wearing our new t-shirts to help promote the "Orgamites" and their role in educating and changing views on the taboo subject of organ donation.
I contacted London Live TV and asked them if they would like to follow us on our journey over the top.  They agreed on a pre-recorded interview with George on Tuesday, 8th August, but unfortunately I was not well enough on the day to join her – so sorry, George, but you did a brilliant job in creating awareness for LLGL and encouraging people to join the Donor Register.  We are still hoping that London Live TV will be on site to record our epic adventure; fingers crossed on that one!