Information
How to fundraise for Live Life Give Life
19 March 2022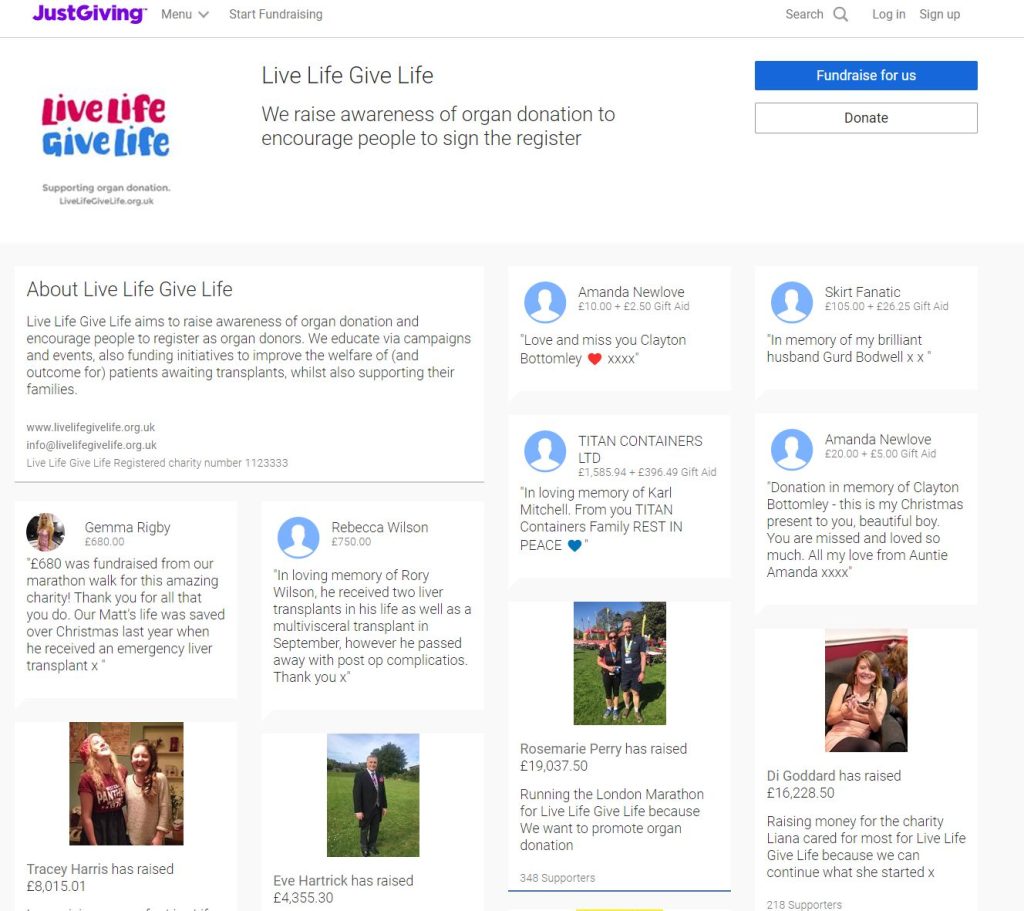 Many people ask us why we believe that our work around organ donation awareness is still important when the UK is now opt out. Let us explain why we believe that our work is still very important.
Many people ask us why we believe that our work around organ donation awareness is still important when the UK is now opt out, meaning everyone is assumed to be an organ donor unless they opt out. Opt out has certainly led to an increase in the number of potential donors, it has not resulted in a significant increase in actual transplantations. This pattern is similar in most countries that adopt an opt out approach.
In the UK, surgeons will still honour the decision of the family at the time. For this reason, many potential donors are prevented from donating, even if they had signed up as an organ donor. This is one of the main reasons that there are less transplantations than there could or should be.
Live Life Give Life believe that is not just important to have people on the donor list, but for people to actually have the conversation with their family and friends so that they know their wishes and can honour them if the time comes. We also believe that educating people, especially young people, about organ transplantation and the power of organ donation to save lives, is an important part of making organ donation the norm. We believe that our work is making a difference and have had encouraging feedback to confirm that. That is the reason that we continue our efforts, despite the change to opt out.
We use our website and social media channels, along with special campaigns and actual visits to schools to raise awareness of organ donation. The charity is run by volunteers who do not get paid for the hard work they put in. All donations are used to fund our campaigns and ongoing messaging. All donations of any size are much appreciated.
If you would like to fund raise for us, we are more than happy to provide you with assistance with ideas and will supply any logos or other artwork required. There are 3 main ways to fundraise for Live Life Give Life:
Create a fundraising page on Just Giving
On our page at justgiving.com, you can click the 'Fundraise for us' button. You will need to register and then you can create your own page where people can click to donate directly to us. You can set the page up the way you like and include all the necessary background an information that people might need to know.
Create a post on Facebook with a donate button
When you create a new post on Facebook, if you click 'Add to your post' at the bottom, there is a 'Raise money' option. Type in Live Life Give Life and select us from the list of charities that come up. This will add a donate button to your post and people can use that to donate directly to us through Facebook.
Many people use this as an alternative to receiving gifts on their birthday, or after the passing of a loved one. The donate post can also be created in a Facebook event. This could be an actual fundraising event, or an event of any kind really.
Organise a fundraiser and send us the donations
Many people raise money at actual events, where donations will be made in cash. These funds can either be given to us through our Just Giving page, or you can contact us at info@livelifegivelife.org.uk and we'll send you our bank account details for you to transfer or deposit the funds directly.
If you don't want to fundraise, but would like to donate, you can do so by clicking the donate button on our Just Giving page or our Facebook page. All donations are much appreciated.